Ultra-Small Dome IP Megapixel Cameras
IR LED Surface Models. SNAPstream™ for All Models.
The MicroDome® series of megapixel cameras feature micro-sized cost-effective solutions for discrete surveillance applications. MicroDome Duo is perfect for a long hallway, corner of a room, or for an entrance of a building with its twin remote focus, user-configurable sensors. MicroDome G2 surface models feature IR LED illuminator options for stronger low light performance, and flush-mounted models are among the easiest to install cameras on the market. All MicroDome series cameras offer a low profile surveillance solution with multiple features and options to choose from.
Latest product release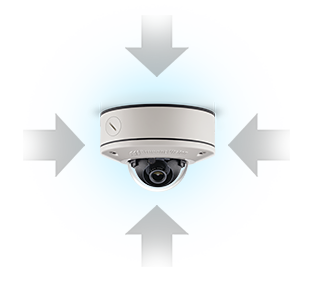 Total PoE Solution with Integrated Lens(es)
MicroDome series cameras are a complete all-in-one Class 3 PoE solution. The camera and motorized lenses operate within the Class 3 PoE specification allowing the cameras to be installed on existing network switches versus having to upgrade to PoE Plus.

Integrated Microphone
MicroDome series flush-mount cameras feature an integrated microphone to capture audio, eliminating the need to install separate audio connectors on site. If not desired, the microphone can be disabled.